Your Guide to Cosmetic Dentistry Options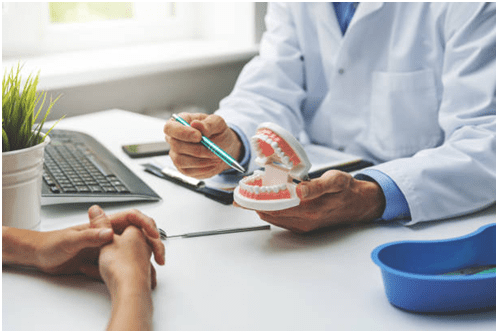 Losing a tooth or several teeth due to decay or an injury is life-changing. Your smile is the gateway to your face people say a smile is the first thing they notice about other people. What you love about your smile today could change tomorrow without the proper care or necessary treatment for your teeth and gums.
While accidents do happen, tooth decay and gum disease are preventable forms of tooth loss. Regular dental examinations with your dentist in Asheville can prevent tooth loss and ensure healthy teeth and gums for life!
However, sometimes losing teeth is an accident or extractions are necessary when the tooth or teeth in your mouth can't be saved. When this happens, schedule an appointment at our Asheville dental practice to discover which of the following cosmetic dentistry options could be for you.
The most important thing is restoring the full function of your smile as well as your confidence to show the world who you are again. Check out our guide for all of your cosmetic dentistry options! 
Dental Implants
Dental implants are excellent options for missing teeth. Whether you're missing all of your teeth or just a few, dental implants make a great choice.
Dental implants are anchored into your mouth using a titanium screw. This screw is placed securely in your jaw bone, which gives dental implants one of their most important benefits stimulating jaw bone growth and preventing bone loss.
Due to the strength of dental implants, you'll never have to worry about your tooth or teeth falling out, and your face will retain its natural beautiful shape because the implant will encourage healthy bone growth.
A crown is affixed to the dental implant to provide you with a totally normal appearance. No one will even notice your tooth or teeth were missing that's how naturally they fit with your smile!
From color to stability to function, dental implants work best for those who are missing a single tooth, several teeth, and can even work for those with an entire arch of teeth missing. All-on-four dental implants allow your dentist in Asheville to anchor secure sets of teeth on just four to six dental implants in your mouth.
You'll need adequate jaw bone to be considered for dental implants, but mini dental implants are also an option for smaller teeth or for those who have inadequate jaw bone. Talk to your Asheville dentist to see if you're a candidate for dental implants!
Dental Veneers
Dental veneers are designed to bond to the front of your teeth to provide a more natural appearance as well as improved function.  Patients who are unhappy with the color, size, or shape of their teeth may opt for porcelain or composite veneers.
Veneers are bonded to your teeth and should be considered as a definitive solution. Since they're made of very sturdy materials, such as porcelain or composite,  they can provide many years of improved aesthetics and function .
Veneers can be a great choice for a variety of patients who are dissatisfied with their smiles. During the procedure, a very small portion of your enamel will be removed in order to properly bond the veneers to your teeth. You care for your veneers just as you would your regular teeth, and you'll have a beautiful smile that covers all imperfections!
Consider veneers for your cosmetic dentistry work if you have gapped teeth, missing teeth, severely stained teeth, or fractured teeth. Veneers are versatile and work for a variety of patients.
Dental Bridges
Dental bridges can be an ideal fit for patients who have a missing tooth or several missing teeth on one side of their mouth. Dental bridges use crowns and an artificial tooth to restore the appearance of your smile and to prevent teeth from shifting to compensate for the tooth loss.
The natural teeth on either side of the missing gaps will help to anchor the artificial tooth in place, and these supporters help to restore your speech as well as your chewing ability.
Your dental bridge will perfectly match the other teeth in your mouth and help to hold the space that was opened as a result of the missing tooth.
Teeth Whitening
Teeth whitening can totally transform your smile. Whether you'd like the brightest white possible or just a subtle teeth whitening, your self-confidence can benefit from a professional teeth whitening.
Teeth whitening is done by your dentist in Asheville and is an easy procedure generally completed in about an hour. You can pick your shade and talk with Dr. Saunders about any other cosmetic dentistry treatments you plan on getting done. Generally, teeth whitening should be done before any other procedures to ensure all the teeth in your new smile will match!
Teeth whitening is generally preceded by a regular cleaning at your dentist office to remove surface stains. This allows your dentist to see what he or she is working with. While some surface stains can be removed with a professional cleaning, others penetrate deeper and need a professional whitening.
A professional whitening is the perfect solution for a special event such as a wedding, graduation, or a new career. Love your smile with professional teeth whitening! 
Dentures
Dentures are available as a full or partial set and help to restore the appearance of your smile. If you're missing all of your natural teeth, a full set of dentures can restore your appearance quickly. Partial dentures can be held in place by the other natural teeth in your mouth and help to provide you with a normal look.
If you're missing all of your teeth and don't quite like the idea of dentures but are put off by the idea of dental implants for every tooth in your mouth, there are implant-supported dentures. These dentures use only a few dental implants and allow your dentures to fit perfectly and securely in place on these anchors.
Your Asheville dentist can help you decide the best fit for your smile and work with you to ensure the cosmetic dentistry work you receive complements your lifestyle perfectly!
CEREC Same-Day Restorations
Saunders DDS also offers CEREC technology.  This form of treatment enables you to have cosmetic dentistry procedures done in just one office visit due to the technology of an in-office machine.
CEREC technology can be used for dental veneers as well as crowns. They're made to match your natural teeth perfectly, and best of all, you won't have to wait weeks for your custom restoration from the lab. Everything is done at the office in one visit!
Getting cosmetic dentistry work done can seem overwhelming. With so many choices, how can you know which one is right for your smile? Schedule an appointment with us to discuss your cosmetic dentistry options. We can help you decide what you can afford, which treatment would be best for your smile, and our office staff can even help you decipher what your insurance will cover.
Your smile is more than just teeth and gums. It gives you confidence, helps you to speak properly, and enables your face to retain its fullness and structure. Even one missing tooth could cause your entire mouth to shift.
Don't wait learn more about your cosmetic dentistry options. You'll love your new, fully-restored smile!