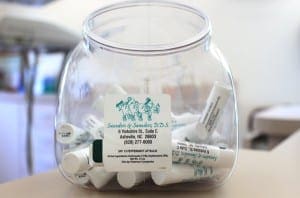 See what our patients are saying about their Asheville dental services:

"I flew all the way from California to have them work on me-that should tell you something about my confidence in Saunders and Saunders!" ~E. Trull
"I have found Saunders and Saunders to be an excellent dental practice. The staff is very friendly and knowledgeable, and the office is very clean and has the most up-to-date equipment. When I asked Dr. Saunders for his recommendation for whitening my teeth, which are tetracycline stained, I really appreciated the honest answers and his treatment suggestions, which were very conservative." ~S. Reese
"Saunders dentists are the best! We were 40 miles from Asheville (from Nebraska!) where we were to spend two weeks in a cabin when I had a horrible fall. Within five minutes of calling Saunders I was in his office and an hour later had a rebuilt front tooth and assurance that the two loose ones would last until end of vacation and return to Lincoln Ne. The person who answered my distress phone call stayed on the line until i found my way to the office and everyone there was professional and reassuring. They are great!"
~Tami W.
"I truly can't say enough wonderful things about Dr. Saunders and staff. It took me almost 7 years to get back in the dentist chair and
when I finally did, I knew I was in the right place! They automatically felt like family to me! They are gentle, fun and kind-yes, I said fun! They always make me laugh and I always look forward to the next 6 months! They truly have changed my mind on going to the dentist. I have recommending so many people to them and if you are reading this wondering if you should call, you better dial now! They are phenomenal!! Couldn't have found a better dentist and friends!! Thank you all so very much!!" ~Whitney Rea
"Dr. Saunders is a wonderful dentist and always makes me feel at ease. I live near Charlotte, NC but it is worth the trip to have a great dentist!" ~M. Ingram
"Their staff is the most friendly, welcoming staff I've ever dealt with. They are so warm and professional, and make the whole experience that much better. I was so impressed with the progress I was able to make after visiting them. All my questions were answered and I feel a lot more confident about the future!" ~Cat
"While I was visiting the Asheville area, I was eating at a restaurant downtown and I had a crown fall out. I frantically called my dentist but it was already too late for me to drive home before they closed as well as his office being closed on Friday. The on-call doctor was out until Monday. I searched Google for the first dentist I could find in Asheville and Dr. Saunder's popped up. I called and they fitted me in even though it was already 4:00 and I wasn't even able to get there until about 4:30. When we arrived, they had the paperwork ready for my fiance to fill out and showed me to a chair. I'm guessing the doctor I saw was the younger one because he was a young guy. They got my crown back on comfortably and not only that but they were wonderfully friendly. When we left, I told my fiance that I would not mind driving all the way to Asheville to be a regular patient of theirs! I would tell anyone to go there because they treated me like any of their own patients. Absolutely great!" ~Anonymous
"I was completely at ease during my appointment here. They went to great lengths to make sure I was completely relaxed and comfortable the entire time. They made the extra effort to make sure every question and concern I had was addressed." ~Shirley
"Saunders and Saunders have taken care of my teeth for years. It is rare to find a general dentist that is capable of addressing most dental issues. It is also nice not to have expensive and unnecessary products or procedures pushed on me. The whole staff is friendly and professional. Would recommend this place to anyone." ~Anonymous
"After avoiding the dentist for what seems like forever, I finally got an appoinment on the schedule for my wife and I and it was the most pleasant experience I have had at the dentist in…well, in forever. Dr Steven and his staff were upbeat and welcoming while maintaining a level of prefessionalism that assured me I was in good hands. I cant say I look forward to my next trip, but I can say that I wont dread the Dentist any longer. Thanks, two new patients from GA."  ~Jeff