Are Dental Implants Right For You?
Patients with a missing tooth or teeth who are in good oral health with adequate bone structure can be considered candidates for dental implants.
Although rejection of dental implants is very rare, the better care you take of your mouth, the easier your healing time after the placements of your implants will be. You can reduce your risk of rejection or infection and increase your chances of healing by not smoking, brushing and flossing regularly, and getting regular dental checkups.
Schedule an appointment with our Asheville family dentist and talk with Dr. Saunders to discover if dental implants could be the best choice for you! Find Out If Dental Implants Are Right For You Today!
What Are Dental Implants?
Dental implants are alternatives to missing teeth and dentures. They consist of an artificial tooth that's anchored like a screw or cylinder into the jaw. After the implant is in place, a crown will be attached to the end. The implant itself is generally made of titanium. Many people find that having a secure, anchored dental implant as opposed to dentures enables them to both feel and look like they have a natural tooth in place of their missing one!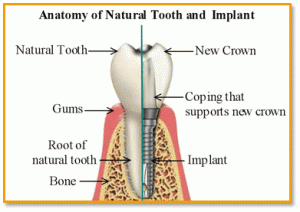 How Dental Implants Work
Dental implants are one of the most secure and natural-looking replacements for your natural teeth that are available through our Asheville dental practice. They replace your missing tooth or teeth and allow you to still maintain full functionality of your mouth. Many patients also find that this enables them to retain their confidence in their smile as well!
The crown that's affixed to the end of your dental implant is virtually indistinguishable from your natural teeth. Your dental implant is for life, although your crown will need to be replaced every ten years or so. However, depending on your oral health and how well you take care of your crown, it could last for twenty years or even more!
Benefits of Dental Implants in Asheville
Dental implants offer patients many benefits that other cosmetic dentistry solutions simply can't provide. The benefits of dental implants include:
Aesthetics. You'll look and feel completely natural with your dental implant. They're impossible to tell apart from your other teeth and you'll be able to smile and eat without worrying about dentures or partials dentures sliding around.
Strength. Since dental implants are securely anchored into your jaw, they are strong and durable, just like your natural teeth.
Impervious to cavities. Since dental implants aren't your natural teeth, it's impossible to get cavities. You'll still need to brush and floss them, though!
Retain facial structure. When patients lose one tooth or several teeth, over time, the other teeth in your mouth will compensate for this loss by shifting. Eventually, you'll lose some of the bone in your jaw, which helps to retain your facial structure, leading to a sunken look around the mouth. There's no risk for this to happen with dental implants. They hold your natural tooth's place in your jaw and even stimulate new bone growth!
How to Take Care of Dental Implants
Taking care of dental implants isn't much different than taking care of your natural teeth. Brushing, flossing, and regular checkups with your Asheville dentist are crucial to great oral health! You'll also need to be sure that you floss properly around your crown. Our dental hygienist or dentist in Asheville, Dr. Saunders, will be happy to show you how to correctly floss around your dental implant to maintain optimal oral health.
Your Appointment for Dental Implants
Schedule a consultation with Dr. Saunders at our Asheville dental practice. He can talk with you about your candidacy for dental implants and how they could improve your smile.
Dr. Saunders has extensive advanced training in dental implants and is a FELLOW of the International Congress of Oral Implantologists. Together, you'll find out if dental implants are the right choice for your smile. The procedure for dental implants is simple. Thanks to advanced technology, Dr. Saunders is able to take x-rays and 3D imaging to see precisely where the dental implant would best fit in your jaw. The placement is completely accurate, allowing you to heal faster and experience little to no discomfort.
After attaching a crown to the end, your procedure is complete! Dr. Saunders will talk with you about how to properly care for your implant and keep your smile healthy for life.
If you're interested in getting dental implants or to find out if you qualify, call our Asheville Dentist office at 828-277-6060. Call Us Today!