5 Reasons to Consider Professional Teeth Whitening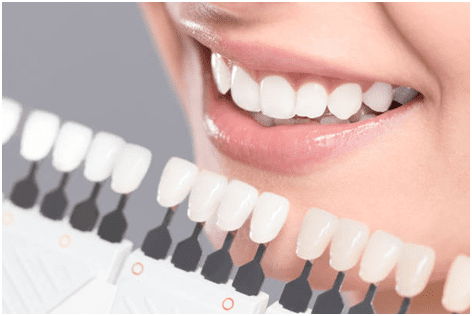 The majority of people name their tooth color as the top reason they're unhappy with their smile. This isn't surprising considering that tooth color is one of the first things people notice about smiles. People also associate brighter teeth with healthier teeth, which makes teeth whitening a popular procedure.
If you've thought about getting a professional teeth whitening done, you're not alone. Maybe you've put it off for an occasion, or because you're on a budget, or because of mask mandates. But if you're unhappy with the color of your teeth, don't put off a professional whitening any longer.
In this article, we'll look at why teeth stain over time as well as a few reasons to finally get your teeth whitened with your dentist in Asheville!
Why Do Teeth Stain?
Teeth stain naturally over time for a few reasons. Your tooth enamel is porous, meaning it can absorb part of whatever you eat and drink, but this also means it can discolor.
Dark-colored foods such as berries, dark chocolate, and condiments such as soy sauce can stain teeth. Drinks such as wine, cherry juice, coffee and tea, and even darker beers can also cause discolored teeth. However, damage to your tooth enamel can also accelerate teeth staining.
Enamel is what keeps your teeth translucent and protected from damage. However, when tooth enamel is worn away, whether from poor oral care or acidic foods and drinks, it can expose dentin. Dentin is the softer layer beneath your tooth enamel and naturally has a more yellow appearance. Dentin also tends to stain easier than enamel, making it harder to maintain a white smile over time.
Reasons to Consider Teeth Whitening
Fortunately, even though teeth staining is unavoidable, you can brighten your smile with a professional teeth whitening with your dentist in Asheville. Here are five reasons to consider getting your teeth professionally whitened!
Boosts Your Self-Confidence
Getting your teeth whitened can boost your self-confidence whether or not you're staying indoors right now. Research shows that whitening your teeth can have a positive effect on how you perceive yourself, giving you the confidence you need to smile without embarrassment.
If you have deeply stained teeth, whether you're a coffee or wine lover, a former smoker, or have damaged tooth enamel, a professional teeth whitening can have an even more dramatic effect on your self-confidence.
However, you don't have to have deeply stained teeth to enjoy the results of a teeth whitening procedure. Even if your teeth have naturally discolored over time, a whitening can still give you a whiter smile that you'll love.
It's More Effective Than OTC Kits
Teeth whitening at your dentist's office is more effective than whitening your teeth at home. While over-the-counter (OTC) kits can get your teeth brighter, the effect is rarely the same as a professional in-office treatment.
Whether they're trays, gels, or strips, tooth whitening products can lead to uneven whitening of your teeth and they have the potential to be abused. Using too much whitening product or overusing a whitening product can damage your tooth enamel, which puts you more at risk for staining your teeth over time and can even cause tooth sensitivity.
By getting your teeth whitened in-office, you can have a seamless white smile. In-office whitening is also safer than at-home kits, as your dentist will make every effort to protect your gum tissue and prevent sensitivity before, during, and after your appointment.
You Can Customize Your Level of Whitening
When you get your teeth whitened in-office with your Asheville dentist, you have the opportunity to truly customize your level of whitening. You can choose to subtly whiten your smile for a noticeable but not dramatic effect, or, you can choose bright white to remove set-in stains and have a megawatt smile.
Your dentist will sit down with you to review all your whitening options and, if you like, can give you their opinion on which shade they think would look best for you. Since your teeth whitening will need to be touched-up at some point, you always have the opportunity to go brighter during your next visit should you wish.
At-home kits don't provide this type of customization, and similar results are difficult to achieve when working with trays, gels, or strips that provide the same experience to each person who uses them regardless of their level of teeth staining.
Be Ready for When Mask Mandates Are Lifted
Although we're still in a pandemic and mask mandates haven't been lifted as of yet, now's the perfect time to get your teeth whitened as you'll be ready to wow people with your smile when masks are no longer mandatory. People will be asking exactly what you did to your smile during quarantine!
And, if you've been fully vaccinated against the COVID-19 virus, the Centers for Disease Control and Prevention (CDC) says that you can socialize with other people who have been fully vaccinated without wearing masks or social distancing!
Have Your Dream Smile in Just One Hour
At-home kits can take weeks to provide a noticeable difference in your tooth color. But when you get a professional teeth whitening, you can have your dream smile in just one hour!
A professional teeth whitening is convenient, less messy that at-home kits, and doesn't require the commitment of regularly using the kits to maintain your smile. Instead, you can enjoy a white smile walking out of the office on the day of your visit, and during your regular check-ups, we can advise you when your next touch-up should be scheduled.
When you can get dazzling white teeth in just an hour, this is perfect for when you have an event coming up such as a presentation at work, a wedding, a graduation, or another event you'd like to have white teeth for.
Have You Considered a Professional Teeth Whitening?
If you've ever considered getting your teeth professionally whitened, skip the OTC kits and contact us at Saunders DDS. We can customize your shade of white and brighten your teeth at our Asheville dental practice in just one hour. Call us at (828) 277-6060, or fill out our online contact form to request a consultation with us!
Are you ready to shine and brighten your smile? Call Saunders DDS to learn more about professional teeth-whitening services by scheduling an appointment now. Call us at (828) 277-6060