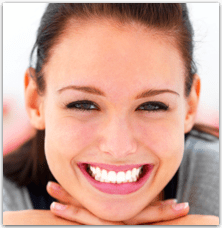 Having white teeth can increase your confidence, give you a stunning smile, and make your dreams come true for your wedding day or another special event in your life. Getting incredibly white teeth doesn't even need an occasion it's easy to feel great about your smile every day with professional teeth whitening at our Asheville dental practice.
Teeth whitening is a safe procedure that removes superficial stains and naturally enhances the gorgeous features of your smile for all the world to see. In recent years, teeth whitening has become a popular procedure for just about everyone. It's important to inquire about teeth whitening prior to getting any cosmetic dentistry done, such as veneers, fillings, or implants. Teeth whitening only works on your natural tooth enamel and should be considered before any of these procedures are done.
This effective, easy, and affordable procedure can easily be completed before your cosmetic dentistry work and be the first step in restoring your beautiful smile or creating the smile you've always wanted with your dentist in Asheville NC.
How the Procedure Works
White teeth begin with a thorough examination and cleaning by one of our hygienists to reveal your true smile as well as to remove any surface stains. This allows your Asheville dentist to see if any stains or discolorations persist. If this is the case, Dr. Saunders may suggest a chairside bleaching, which is just another name for a professional teeth whitening right in our office. The visit takes up to an hour and often requires at-home follow-up care to reach the maximum whiteness.
During the procedure, a whitening gel will be placed evenly on your smile to give you perfect white teeth. This is similar to the gels used in at-home bleaching kits, but it's concentrated and mixed specifically for your smile to be just the right amount of whiteness.
Dr. Saunders will then use a special light to expedite the process. The procedure is quick, safe, comfortable, and you'll have a gorgeous smile upon leaving our Asheville family dentist office!
Why Professional Teeth Whitening?
A professional teeth whitening is always safer and more effective than at-home kits. At-home kits leave your teeth prone to uneven whitening in addition to stripping the enamel off of your teeth. Many times, patients overuse the bleaching kits in an attempt to get the whitest teeth possible from over-the-counter treatments. Overuse of these kits permanently damages your smile, as your enamel cannot be replaced.
Teeth whitening with a trained, professional dentist like Dr. Saunders is fast, effective, and safe. The process is much faster than at-home kits as well, which often take weeks to work. You can have perfect white teeth in just one visit to our office.
Don't waste time or money on at-home bleaching kits or risk damaging your smile when you could have a flawless professional teeth whitening in the comfort of our office in under an hour!
Perfect Teeth for Your Perfect Day
Your wedding day is a special day that you'll always remember, so have the gorgeous smile to shine throughout your ceremony, pictures, and reception. Your guests and groom-to-be will be amazed at how naturally beautiful and picturesque your smile looks after your professional teeth whitening with our dentist in Asheville.
Having your teeth whitened for your wedding day will allow you to look back on your pictures with confidence and satisfaction on how stunning your smile looks. Everyone wants to look their best for the most important day of their life. Let us help you look your best on your wedding day with our professional teeth whitening services. You'll be pleasantly surprised at how beautiful your smile can look just a few shades whiter!
We are currently offering brides 50% off of teeth whitening for their special day! At Saunders DDS, we know that every detail matters on the happiest day of your life. Give us a call at 828-277-6060 to schedule a special teeth whitening appointment just for brides!
Get ready to shine on your special day and every day for the rest of your life with our professional teeth whitening at Saunders DDS. Our Asheville dental practice is here to accommodate you for all your oral health care needs. Having white teeth can restore your confidence, complete your restoration along with any cosmetic dentistry you may need, and allow you to feel beautiful inside and out. Give us a call at 828-277-6060 to schedule an appointment for teeth whitening!
Here are some pictures of our happy brides: